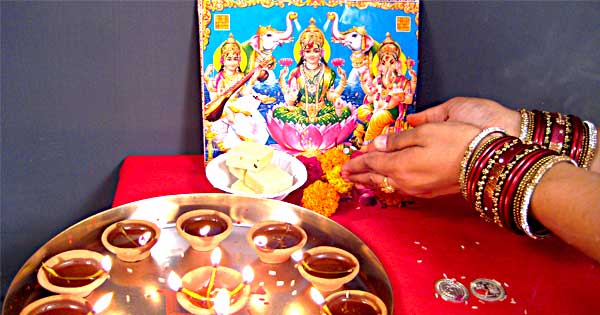 There is something beautiful about Diwali, the festival of lights does something magical to everyone. Everyone is encouraged to cleanse their societies, Karma and life. Even though different fables and legends what is new this Diwali? Look around, the lights are ready, sweets are ready, streets are ready, are you ready?
Govasta Dwadashi
Govatsa Dwadashi is celebrated a day before Dhanteras . The cows and calves are worshipped on this day. In the oldest religion of the world, Hinduism: cows are held in self-esteem. They are fed wheat products after worship. Those who observe Govatsa Dwadashi abstain from eating any wheat and milk products during the day. Govatsa Dwadashi is also observed as Nandini Vrat. Nandini is the divine cow in Hinduism.
In Maharashtra, Govatsa Dwadashi is known as Vasu Baras and is considered the first of Deepavali.
2016 Dhanteras puja , Dhantryodhashi puja
Dhantroyadashi , also known as Dhanteras is the first day of the five long days of Diwali puja festivities. It is believed that in the day of Dhantrayoshi Goddess Lakshmi came out of the ocean during the churning of the Milky Sea. Lord Kubera along with goddess lakshmi is worshipped on the auspicious day of Trayodashi.
The most suitable time for Laksmi Puja on Dhanteras is during Pradosh Kaalwhen Sthir Lagna prevails. If Dhanteras Puja ia performed during the sthir lagna , goddess lakshmi will be pleased. Vrishabh Lagna is considered Sthir and mostly overlaps with Pradosh Kaal during Diwali festivities.
Dhantera puja is also known as Dhantrayodashi . The day of Dhanteras is also observed as Dhantwantri Triodashi or Dhanvantri Jayanti, the birth anniversary of the god of Ayurveda . Yamadeep is another ritual performed on the same Tithi when a Diya is lit outside the house to ward off negative energy or untimely death of a family member.
2016 Dhanvantri Trayodashi
As believed and according to legends, Dhanvantri emerged with nectar during the churning of the Milky Ocean. Hence, for those practising medicine Ayurveda , this day holds immense significance.
This day is observed two days before the Diwali Puja . This day is of great significance as it refers to Wealth and Prosperity. Both Lord Kuber and Goddess Lakshmi are worshipped together on this day .Lord Kubera is considered the treasurer of the riches of the world.
Yama Deepam
The day of Dhanteras has another ritual, where after sunset (twilight) a Diya (lamp) is lit outside the house to ward off any untimely death of any family member. This ritual is known as Deepdan for Yamraj. This ritual is performed to please Lord Mainly observed in the western states of India, such as Gujrat. Kali Chaudas , also known as Bhut Chaturdashi . It is observed during Chaturdashi Tithi during the festival of Diwali. However, Roop Chaudas and Narak Chaturdashi are two separate occasions and should not be confused with Kali Chaudas. It might fall a day before of Narak Chaturdashi .
Rituals of Kali Chaudas involve visiting the crematorium during midnight offering prayers to the goddess of darkness and to Veer Vatal.
Further, Kali Chaudas should not be confused with Bengal's Kali puja, which is observed one day after Kali Chaudas when Amavasya tithi prevails during midnight.
2016 Hanuman Puja
Different states across India have different traditions, and the beauty of celebration lies in celebrating it with diversity. Hanuman Puja is one such tradition, mostly celebrated in the western parts of the country especially Gujrat. The day of Hanuman Puja often coincides with Kali Chaudas. Lord Hanuman gives strength and power to devotees to fight all negativities and gives protection from all bad spirits in life.
Diwali is celebrated to mark the homecoming of Lord Rama from Ayodhya after defeating Ravan and completing 14 years of exile. Lord Rama was pleased with his dedicated service that he granted him that before every Puja and festival he will be worshipped in every household. Thus, Lord Hanuman signifies and is believed help his devotees fight evils in life.
The very same day is observed as Shri Hanuman Jayanti at Hanumangarhi temple in Ayodhya. However, most of the people in North India celebrate Hanuman Jayanti on Chaitra Purnima .
2016 Kali puja, Shyama puja
Every state in India is distinct and celebrates all festivals in their own manner. In West Bengal, Orissa, Assam the day to worship goddess Lakshmi falls on the full moon day in Lunar month of Ashwin. Lakshmi puja on Purnima Tithi in the month of Ashwin is known as Bengal Lakshmi Puja .
Kali Puja is dedicated to Goddess Kali. While in most parts of India, Goddess Lakshmi is worshipped on Amavasya Tithi during Diwali. But people from West Bengal, Assam, Orissa worship Goddess Kali on new Moon day.
Tamil Deepavali
In Tamil Nadu, people get up early, bathe before sunrise wear new clothes and perform Puja . Apart from Tamil Nadu, people in adjoining states of Karnataka also follow the same set of rituals. Therefore, making Chaturdashi Tithi the main day of worshipping unlike the rest of India, Diyas are lit after dawn and not Dusk.
Unlike North India, this celebrates the homecoming of Lord Rama, to Ayodhya. In Karnataka and Tamil Nadu, it is celebrated as the killing of demon Naraksura by Goddess Satyabhama and Lord Krishna. Although, the same rituals are observed . It has different names across India like – Naraka Chaturdashi.
Abhyang Snan on Narak Chaturdashi
Abhyanga snan is always done during moonrise but after sunrise and Amavasya Tithi . It is believed and often said that people should use sesame oil and Ubtan while bathing. People who do this, are saved and do not go in Narak.
Narak Chaturdashi is considered same as Kali Chaudas. This day is also called Choti Diwali , Roop Chaturdashi and Roop Chaudas.
2016 Lakshmi Puja , Diwali Puja
Lakshmi Puja Preparations
Every year on the day of Lakshmi Puja . All the members of the family get up early in the morning and pay tribute to the family gods and ancestors. The Devotees observe a day-long fast, which can only be opened after performing goddess Lakshmi\'s Puja .
In Hindu families, Diwali is a festival which is celebrated with much zeal and enthusiasm. All members of the household, young or old decorate their houses with flowers. Illuminate their houses, office, streets with lights.
For , Lakshmi Puja preparations is a red cloth is placed on a raised platform , idols of Lakshmi and Ganesha are installed on them and adorned with silk clothes and jewellery. After this, a white cloth should be placed, for further installing of Navgraha Gods. Nine slots of Akshata (broken rice) should be made for installing Navgaraha Gods and then sixteen slots should be placed of wheat and wheat flour on the red cloth.
Lakshmi puja Mahurat
On Diwali, Lakshmi Puja should be performed during Pradosh Kaal which should be after sunset. The most suitable time for Lakshmi Puja is during Pradosh Kaal, when Sthir Lagna prevails. Sthir meaning (not moveable). Lakshmiji will stay at your home when Puja is performed in this Lagna. Vrishabh Lagna is considered Sthir and mostly overlaps with Pradosh Kaal.
Kedar Gauri and Vrat
Mainly observed in southern India, especially states of Tamil Nadu. It is also known as Kedara Vratham.
The Legend of Gauri Vrath
A great devotee of Lord Shiva, Bhringi Rishi ignored the power of the God. This annoyed Shakti Devi of Lord Shiva and removed the body from the sage of Bhringi. Removed energy being bhringi herself. Kedara Vrat is mainly observed by Goddess Gauri herself, thus known as Kedara Gauri Vrat.
Diwali Chopda Puja
Even after the presence of various corporate houses and multinational companies. Modern India still upholds family business as one of their many traditions. Chopda Puja is a part of the many traditions where successful businesses need blessings of deities and makes the coming year more profitable.
This festive time of the year being the time where every household wants to please and seek blessings of Goddess Lakshmi and Ganesha. Businesses in Gujarat use traditional accounting books Chopda. But, laptops, computers, the internet have replaced businesses and accounting software. However, the significance remains intact and the puja is still performed where computers and laptops are worshipped in front of the deities. In today's times Swastika , Om , and Shubh Labh are drawn at the top of the laptop .
CHAUGADHIYA MUHURAT, is considered auspicious to perform Puja such as, Amrit ,Shubh, Labh, Char . Advantage being that is used during day and night time.
Govardhan Puja
The next day of Diwali Puja is Govardhan Puja. It is celebrated as the day when Lord Krishna defeated God Indra. Religious texts suggest that these celebrations should be performed during pratipada Tithi of Karthik month.
Also known as Annakuta Puja, food made of cereals, gram, rice, leafy vegetables cooked and offered to Lord Krishna.
In the state of Maharashtra, this day is celebrated as Bali Pratipada, or Bali Padva . The day celebrated to mark the victory of Vamana , an incarnation of Lord Vishnu , over King Bali and subsequent pushing of Pali to Patal Lok. Most of the times this day also coincide with Gujarati New Year, celebrated on Shukla Paksha Pratipada of Kartik Month.
Bali Pratipada
Bali Pratipada also known as Bali Puja is performed on the first day of Kartik Pratipada falling on the next day of Diwali. Every festival in these days has a different significance and meaning, while Govardhan puja is dedicated Govardhan hills and Lord Krishna, Bali puja is performed to seek blessings of Demon King Bali.
Dyuta krida
The act of gambling in Hinduism is known since Vedic period. The board game on which it is played is known as Chaupar and dice is known as Pasha. In modern India, it is called Jua, and is considered a taboo.
As religious Hindu texts, say that it was Lord Shiva who invented the game so that he could play it with Goddess Parvati . It was on the lines and belief that this game is for those who want to amass sudden wealth and to destroy the wealth of someone. Celebrated on the day of Kartik Pratipada , also known as Bali Pratipada and Govardhan Puja . Hence whoever plays Dyut Krida on this day has Goddess Parvati's blessings.
Playing Dyut on the mornings of Kartik Pratipada is the best day to play Dyut. Wearing new clothes in the morning of Diwali after Dyut Krida and taking Mangla Aarti from the female members of the family. One of the major reasons why it is suggested that Dyut is played is not because it is an auspicious day to win but a forecast for the coming year.
Gujarati New Year.
The time to close old account books and open new books. Traditional account books are known as Chopda. New account books are marked with auspicious symbols to make the coming year profitable.
Bhaiya Dooj
As the festive season draws to an end with this day. On this day sisters pray for their brothers and offer gifts to their sisters. It is also known as Bhau Teej and Bhathru Dwithiya .