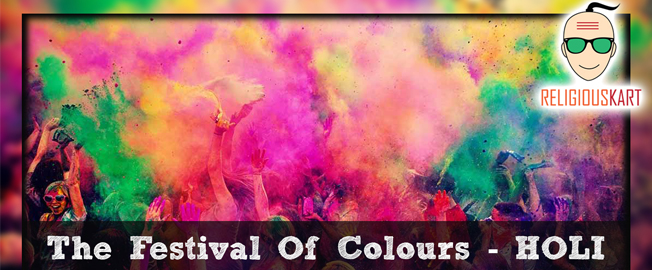 ABOUT HOLI
Holi the festival of colours is considered the most cheerful festival in the country which is celebrated with unmatched grandeur and pomp and shows. Holi 2017 like other years is eagerly awaited. The much awaited festival marks the beginning of new relationships and strengthens the old ones. People play with colours and water, dance, sing and eat delicious sweets.
SIGNIFICANCE
There once was a demon king Hirniyakashyap who extremely envied his son Prahalad who was an ardent devotee of Lord Vishnu. The king asked his Sister Holika to take little Prahalad on her lap and sit on the bonfire which would kill the child. Holika did as directed but instead of little Prahlad , Holika burnt in the fire and the child was saved because of the blessings of Lord Vishnu and this marked the victory of Good over Evil. Thus, ''Holika dahan'' is celebrated in association with the stated legend.
Another legend in connection with the festival is the love story of Lord Krishna and Goddess Radha. Little Krishna who was dark in complexion envied his beloved's fair complexion and notoriously applied colour on her face. Since then the festival is celebrated between the beloveds to express the depth of their love.
Holi also marks the death of Pootna who tried to kill baby Krishna. Another legend that is associated with the festival is between Lord Shiva and Kaamdev where lord of Love Kaamdev sacrificed his life to wake up Lord Shiva from his meditation to save the world.
RITUALS
HOLIKA DAHAN
An effigy of ogress HOLIKA is placed on wood and burnt to signify the victory of good over evil on the day of Holi.
Next day ''Dhulendi'' is celebrated with much grandeur and happiness. People apply ''GULAAL'' on each other's face and body and splace water over each other. Delicious food items are prepared to add the fun and frolic to the festival that includes gujjiya ,halwa, lassi and dahi bhalle. People groove to the peppy Bollywood numbers and sing cheerful songs and hence the festival ends spreading wide smiles.
Holi 2017 is again much awaited and the market is again buzzing with shopkeepers shouting on top of their voices to sell beautiful colours , water guns in different shapes and sizes and water balloons to add to the magic of Holi 2017.