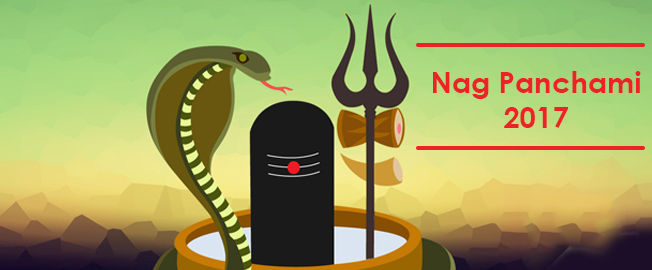 Nag Panchami 2017
Nag Panchami is the festival where Serpents are worshipped by Hindus, also in countries where there are Hindu devotees. It is celebrated on the bright half of Lunar Month of Shravan. It is also known as Garuda Panchami as the Eagle and Snakes are considered epitome of enmity and worshipping the Eagle is believed to provide a shield against the ill effects of serpents.
The legend states that the festival is celebrated to mark the victory of Lord Krishna over a dangerous serpent in the Yamuna River known as Kaliya who terrorised the locals there. The snakes are feared as they often bite when they encounter human beings and hence people developed this ritual of worshipping the serpents and requesting them not to harm the humans.
Nag Panchami 2017 will be celebrated on 27th July which falls on Thursday.
Nag Panchami 2017 Muhurat: 7:02:57 to 8:22:37
Nag Panchami Puja
The Nag Panchami puja is done following some rituals which are as follows:
· The image of a Serpent is placed.
· 8 snakes are generally considered for the puja namely Anant, Vasuki, Padma, Mahapadma, Takshak, Kuleer, Karkata and shankha.
· The Nag Panchami Puja is started by offering Sindoor, Haldi and flowers to Nag Devta.
· Later raw milk and Sugar is also offered
· An Arti to impress Nag devta is sung at last.
· People also give donations to snake charmers and also listen to Nag Panchami Katha.
To know more about Nag Panchami, contact us on 9582515505.