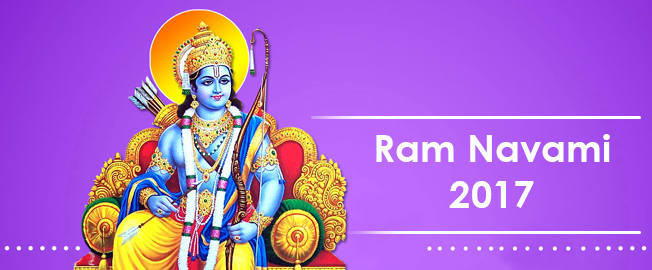 RAM NAVAMI 2017
Ram Navami celebrates the birthday of Lord Ram. He is considered the seventh avatar of Lord Vishnu and the festival is celebrated with great pomp and shows. The festival falls on the Ninth day of the Shukla Paksha in Chaitra month according to the Hindu calendar.
Lord Ram
He was the ideal of everyone and was the most righteous and generous. He was the apple of his mother's eye and was deeply respected and loved by his Three Brother's Lakshman, Bharat and Shatrughan. Ram was gentle and generous and helped everyone who was in need. Holding great respect for his elders Ram did everything possible to prove his love and respect for his parentsand others that included going for a fourteen years exile. He was the consort of Devi Sita and gave her a promise to never marry anyone else in his entire lifetime. His other names include Dasharathi, Hari ram, Janakinath, Kaushaleya, Raghava ,Raghupati and so on and so forth. He was considered ideal figure in every sense be it an ideal son, an ideal husband ,and ideal king or an ideal brother. He had a magnificent character and was considered the lord of the lords. He was an excellent warrior and fierce at the battlefield but calm and composed inside. He took birth to kill the evil King Ravana and hence mark the victory of good over evil.
SIGNIFICANCE
The festival marks the birth of Lord Ram, the Seventh Avatar of Lord Vishnu to King Dasharatha and queen Kaushalya.
CELEBRATION
The festival is celebrated in remembrance of Lord Ram and Goddess Sita also including Lakshman and Lord Hanuman. The festival is celebrated by reciting Ram bhajan and kirtans are organised. People generally keep fast and prepare cradle for Baby Ram and sing and Dance on religious songs. Some places can be seen celebrating Ram Navami with unmatched grandeur and fun like Ayodhya, the birth place of Lord Ram, Rameshwaram, sitamarhi and Bhadrachalam. Preparation begins well in advance for the beautiful Ratha Yatra in Eastern states like Odisha, Jharkhand and West Bengal. Many temple discussions are organised and meals are prepared to offer to the poor and needy. Generally the devotees take a holy dip in River Sarayu and then head towards the temples to celebrate Lord Ram's birthday.
RAM NAVAMI PUJA VIDHI
Ram Navami puja vidhi is as follow:
· The entire house is cleaned
· The idol of Lord Ram is given a ceremonial bath along with Devi Sita and lakshman.
· Tilak is applied on the idol's forehead and water is offered to wash their feet.
· Then an oil lamp along with camphor and incense stick is lit.
· Arti and devotional songs are sung in praise of Lord Ram.
· Lastly sweets are offered to Lord Ram and then distributed as Prasad.
Following proper Ram Navami Puja vidhi is considered very rewarding.

Ram Navami 2017 will be celebrated on 5th of April.