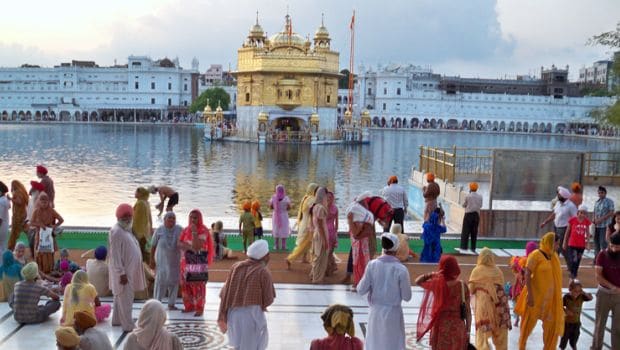 About
Sri Harmandir Sahib, also known as Sri Darbar Sahib or Golden Temple, is the holiest shrine in the religion of Sikhism. Located in the city of Amritsar, it was established by Guru Ram Das, the fourth guru of the Sikhs and since then is called guru di nagri which means city of the Sikh Guru. The Harmandir Sahib is considered holy by Sikhs because the eternal Guru of Sikhism, the Sri Guru Granth Sahib, Always present inside it its construction mainly intended to facilitate a place of worship for men and women from all walks of life and religion to come and worship God . The Sri Guru Granth Sahib is the holiest literature in the Sikh religion, the tenth Guru of Sikhism. Guru Gobind Singh on 7th October 1708 at Nanded made it the eternal Sikh Guru and the leader of Sikhism. The Guru Granth Sahib is the holiest scripture to the Sikhs, present is the holiest and most precious to the Sikhs, wherever present in the world.Amritsar is the location of Harmandir Sahib. Its name literally means temple of God. The fourth Guru of Sikhism, Guru Ram Das, excavated a tank in 1577 AD which subsequently became known as Amritsar (meaning: Pool of the Nectar of Immortality), giving its name to the city that grew around it. In due course, a splendid Sikh edifice, Harmandir Sahib (meaning: The abode of God), rose in the middle of this tank and became the supreme centre of Sikhism.
Festivals
Vaisakhi, one of the most important festivals to the Sikhs is celebrated with much charm and fervour around the second week of april. Sikhs celebrate the founding of khalsa on this day. Other important Sikh religious days such as the birth of Guru Ram Das, martyrdom day of Guru Teg Bahadur, and the birthday of the Sikh founder Guru Nanak, etc. are also celebrated with equal religious piety.
Book Now!
You will get a box full of
Harminder sahib's prasad will be given.
A sacred locket
A traditional kada and kanga.
A beautiful picture of golden temple.
We act as your representative to offer & deliver Prasad to your doorstep. We cover all miscellaneous costs such as
Packaging,
Professional handling and logistics,
Shipping,
Payment collection, and
Government taxes
Please feel free to give us a missed call +91 9599955918