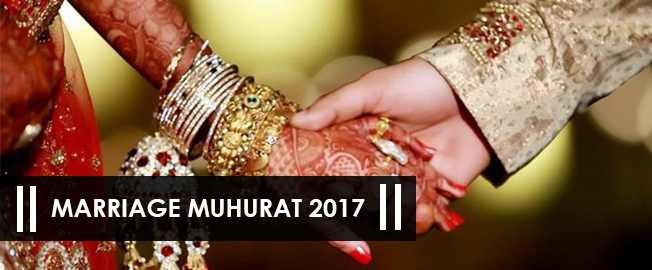 MARRIAGE MUHURAT 2017
Marriage is the most sacred bond a person has in his or her life. It is an institution in which two people take vows to be the pillar of strength for each other. Such sacred nuptial bond is very delicate and precious and if taken at wrong time, can prove to be devastating for the person's entire lifetime. That is why Muhurat plays an important role in the marriage ceremony.
Why do we need a shubh muhurat?
Time plays an important role in determining one's future. Good time makes the person Happy and strong and bad time makes him or her weak and vulnerable. Muhurat plays an important role as it is that time when the person should carry out his or her important events. When someone performs a puja, start new ventures or carry out important events on good Muhurat he or she is said to derive maximum benefits from that work that is why Muhurat is important
Auspicious Nakshatra for Marriage/Vivaah
Given below are the best Muhurat to take up the nuptial bond
1. Mrigashirsha
2. Magha
3. Uttara Phalguni
4. Hasta
5. Swati
6. Anuradha
7. Mula or Moola
8. Uttara Ashadha
9. Uttara Bhadrapada
10. revati
PRECAUTIONS
Marriage plays an important role in one's life and this bond is taken with utmost care and precautions. A person gets married to find his or her soulmate and it is very important to get tied up with someone at the best possible time.
If someone gets married at the wrong time it can be life changing for the person so it is advisable to checl proper Muhurat and get an expert Astrologer to tell you the same.
The following table shows best Muhurats to get married in the year 2017:
| | | | |
| --- | --- | --- | --- |
| Auspicious Marriage Dates | Shubh Vivah Muhurat | Nakshatra For Marriage | Tithi For Marriage |
| 15th January (Sunday) | 11:39 to 22:44 | Magha | Chaturthi |
| 16th January (Monday) | 23:18 to 31:18+ | Uttara Phalguni | Panchami |
| 17th January (Tuesday) | 07:18 to 12:04 | Uttara Phalguni | Panchami |
| 20th January (Friday) | 07:18 to 12:36 | Swati | Ashtami |
| 22nd January (Sunday) | 21:59 to 31:17+ | Anuradha | Ekadashi |
| 23rd January (Monday) | 07:17 to 13:57 | Anuradha | Ekadashi |
| 01st February (Wednesday) | 07:13 to 31:12+ | Uttara Bhadrapada, Revati | Panchami, Shashthi |
| 02nd February (Thursday) | 07:12 to 15:25 | Revati | Shashthi |
| 11th February (Saturday) | 14:51 to 22:24 | Magha | Pratipada |
| 13th February (Monday) | 08:59 to 16:44 | Uttara Phalguni | Tritiya |
| 14th February (Tuesday) | 07:04 to 18:57 | Uttara Phalguni, Hasta | Chaturthi |
| 16th February (Thursday) | 19:03 to 31:01+ | Swati | Shashthi |
| 21st February (Tuesday) | 18:45 to 27:18+ | Mula | Ekadashi |
| 23rd February (Thursday) | 22:04 to 30:30+ | Uttara Ashadha | Trayodashi |
| 28th February (Tuesday) | 06:51 to 30:50+ | Uttara Bhadrapada, Revati | Dwitiya, Tritiya |
| 01st March (Wednesday) | 06:50 to 21:38 | Revati | Tritiya, Chaturthi |
| 04th March (Saturday) | 22:29 to 30:45+ | Rohini | Saptami |
| 05th March (Sunday) | 17:02 to 30:44+ | Rohini, Mrigashirsha | Ashtami, Navami |
| 06th March (Monday) | 06:44 to 19:42 | Mrigashirsha | Navami |
| 10th March (Friday) | 23:01 to 30:39+ | Magha | Chaturdashi |
| 11th March (Saturday) | 06:39 to 17:07 | Magha | Chaturdashi |
| 13th March (Monday) | 26:16+ to 30:35+ | Hasta | Dwitiya |
| 17th April (Monday) | 12:47 to 19:33 | Mula | Shashthi |
| 18th April (Tuesday) | 22:11 to 29:55+ | Uttara Ashadha | Saptami, Ashtami |
| 19th April (Wednesday) | 05:55 to 24:20+ | Uttara Ashadha | Ashtami |
| 28th April (Friday) | 13:39 to 29:46+ | Rohini | Tritiya |
| 04th May (Thursday) | 10:37 to 29:02+ | Magha | Navami, Dashami |
| 06th May (Saturday) | 20:30 to 29:39+ | Uttara Phalguni | Dwadashi |
| 07th May (Sunday) | 05:39 to 29:38+ | Uttara Phalguni, Hasta | Dwadashi, Trayodashi |
| 08th May (Monday) | 05:38 to 09:44 | Hasta | Trayodashi |
| 14th May (Sunday) | 10:17 to 26:08+ | Mula | Chaturthi |
| 16th May (Tuesday) | 05:33 to 29:33+ | Uttara Ashadha | Panchami, Shashthi |
| 21st May (Sunday) | 16:41 to 29:30+ | Uttara Bhadrapada | Ekadashi |
| 22nd May (Monday) | 05:30 to 26:51+ | Uttara Bhadrapada, Revati | Ekadashi, Dwadashi |
| 26th May (Friday) | 11:15 to 29:29+ | Rohini, Mrigashirsha | Pratipada, Dwitiya |
| 27th May (Saturday) | 05:29 to 14:41 | Mrigashirsha | Dwitiya |
| 31st May (Wednesday) | 23:41 to 29:27+ | Magha | Saptami |
| 02nd June (Friday) | 12:01 to 29:27+ | Uttara Phalguni | Navami |
| 03rd June (Saturday) | 05:27 to 21:32 | Uttara Phalguni, Hasta | Navami, Dashami |
| 05th June (Monday) | 17:48 to 22:15 | Swati | Dwadashi |
| 07th June (Wednesday) | 23:19 to 29:26+ | Anuradha | Chaturdashi |
| 08th June (Thursday) | 05:26 to 16:16 | Anuradha | Chaturdashi |
| 10th June (Saturday) | 11:55 to 29:26+ | Mula | Pratipada, Dwitiya |
| 17th June (Saturday) | 18:48 to 29:27+ | Uttara Bhadrapada | Ashtami |
| 18th June (Sunday) | 05:27 to 29:27+ | Uttara Bhadrapada, Revati | Navami, Dashami |
| 19th June (Monday) | 05:27 to 11:42 | Revati | Dashami |
| 28th June (Wednesday) | 05:29 to 19:17 | Magha | Panchami |
| 30th June (Friday) | 05:54 to 18:00 | Uttara Phalguni | Saptami |
| 02nd July (Sunday) | 24:00+ to 29:31+ | Swati | Dashami |
| 11th November (Saturday) | 17:41 to 25:38+ | Magha | Navami |
| 13th November (Monday) | 22:48 to 30:46+ | Uttara Phalguni | Ekadashi |
| 14th November (Tuesday) | 06:46 to 30:47+ | Uttara Phalguni, Hasta | Ekadashi, Dwadashi |
| 15th November (Wednesday) | 06:47 to 13:46 | Hasta | Dwadashi |
| 21st November (Tuesday) | 07:34 to 23:26 | Mula | Tritiya |
| 23rd November (Thursday) | 25:24+ to 30:55+ | Uttara Ashadha | Panchami, Shashthi |
To read more about 2017 Muhurat Date and Time please click on the links below or contact on the following number: 9582515505
Vehicle Purchase Muhurat in 2017