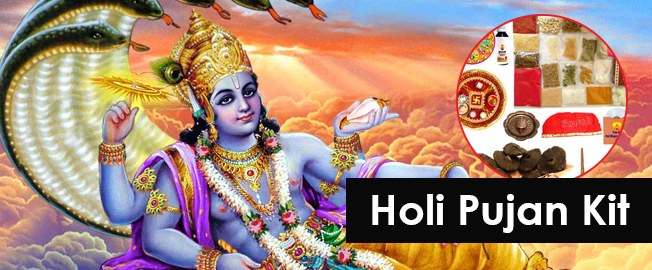 Holi Pooja is considered auspicious for the purpose of celebrating the festival of colours. Holi Pooja kit plays a significant role in performing the Pooja. In today's fast moving world people hardly get time to arrange for the appropriate Pooja material so we at Religiouskart take your burden on ourselves and give you all that is required to perform your Pooja with divinity in our special Holi Pooja Kit having all Holi Poojan products.
The Holi Pooja kit comprises for essentials that are important to perform the Holi Pooja. The Holi Pooja Products are as follow:
v Gulaal powder, an Earthen lamp filled with Ghee, Turmeric pieces, Cotton threads, liquid Sandalwood paste, Coconut , Batasa, Agarbatti, Flowers, Raw moong daal, Roli, Sweets , rice which is not broken, Raw yarn, Garland made of cow dung, Green chana.
WHY YOU SHOULD CHOOSE US
We at ReligiousKart are available to make your work a little easier by providing you the most authentic products in the Holi Pooja Kit at most affordable prices with utmost convenience. All the items in the Holi Pooja Kit are carefully packed and made available to you without any physical defects and hence you need not worry about your Holi Pooja. The Holi Pooja kit is auspicious and comes with a beautiful metal plate at a minimal cost of 4100 rs.