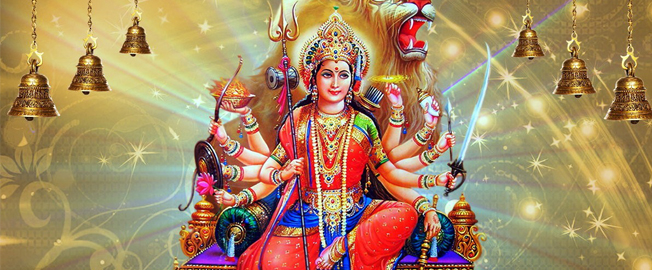 Navratri puja
The 9 days devoted to Goddess Durga are a full fledged treat for her devotees who get to sing, dance and shop for full 9 days. Maa Durga is the symbol of power, strong determination and victory of good over evil. She blesses her devotees with eternal prosperity, happiness and luck. Her 9 forms are of great reverence and are worshipped with full devotion. Navaratri can be broken into two words derived from Sanskrit Language, ''Nav'' means Nine and ''Ratri'' means Night.
How To Perform Navratri Puja:
The auspicious Puja offered to Maa Durga is of great significance and is considered very fruitful and rewarding. This year Navratri will be celebrated from 28th March to 5th of April. The puja includes:
· Navchandi Path
· Durga Saptsati Path
· Concluding Yagna on the 9th Day
The priest recites the entire Durga saptsati Path. During the recitation the priest also offers Panchmeva, Mata ka Shringaar, Chunri, Kalash and coconut before the Supreme Shakti.
Navchandi Path is recited for longitivity of lifeand is performed to get rid of serious problems related to life, marriage, kids, court cases etc.
Durga saptsati path is recited to seek divine blessings of Maa Durga and consists of 13 Chapters and 700 Shlokas.
Benefits Of Navratri Puja:
• It bestows Happiness and luck upon the devotee.
• Helps in boosting self-confidence and recognising one's capabilities.
• Creates positive vibes and eliminates negative vibes.
• Getting over your enemies and people who try to put you down
• Attain peace of mind and soul
• Gain courage, strength and wisdom
• Enjoy stress free life
• Have abundance material gains and other benefits
• Get rid of anger, depression, anxiety and mental illness.
• Enjoy sound mind and health
• Achieve matrimonial success, legal success etc.
Last day a Yagna is performed which is considered very significant and auspicious. Once the Pooja is ordered we make sure that the date, time and venue is sent to you and you get to see the virtual footage of the Pooja being performed on your behalf by our priests. Lastly we arrange that the divine prasda is received by you which include Maata ki chunri, Mata ka Khazana, Panchmeva, sacred thread of the Goddess, coconut, Durga Chalisa, etc.
To know more about Navratri Puja, click here, or call us on 9582515505