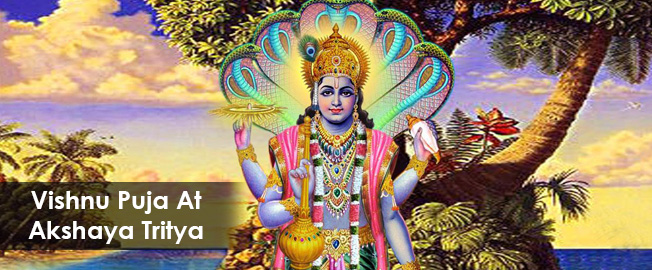 VISHNU PUJA AT AKSHAYA TRITIYA
ABOUT AKSHAYA TRITIYA
Akshaya Tritya is an auspicious Hindu festival and is also known as Akha Teej. Celebrated during Shukla Paksha Tritiya during the month of Vaishakha. The word Akshaya means never diminishing. Hence any benefit arriving due to any japa or mantra chanting never diminishes.The festival brings immense joy and happiness. It is said that when Akshaya Tritiya falls on Rohini Nakshatra and Wednesday it is considered very auspicious and fruitful.
During the festival people buy Gold as it is believed to bring immense wealth and prosperity. Doing Vishnu Puja at Akshaya Tritiya is considered highly significant and Lord Vishnu fulfils all the wishes of his devotees if the puja is done following all rituals properly. The festival is said to bring luck, success and happiness. The supreme Lord Vishnu is considered the ruling Lord of Akshaya Tritiya festival. Akshaya Tritiya Puja is very auspicious during the festival. It is believed that Treta yuga began on the day of Akshaya Tritiya day. According to a legend it is also believed that Akshaya Tritiya and Lord Parashuram Jayanti who is the 6th incarnation of Lord Vishnu, falls on the same day but the Jayanti can fall one day before Akshaya Tritiya.
Akshaya Tritiya 2017 will be celebrated on 28th April.
PUJA VIDHI
There are certain pointers which should be followed to perform the Vishnu puja at Akshaya Tritiya correctly
· Entire house should be cleaned
· Lord Vishnu's idol should be given a ceremonial bath.
· Chandan ka teeka and flowers should be presented before the deity.
· The Prasad should include sweets and tulsi leaves.
· Seesam, rice and Chana Daal should be placed before the deity.
· Vishnu Sahasranama should be chanted.
· The next step should be to worship Maa Parvati.
· Offer Wheat, Rice, Chana Daal, Milk, New Clothes and Kalash before Maa Parvati.
· Feed cows and poor and needy.
BENEFITS OF VISHNU PUJA AT AKSHAYA TRITIYA
There are many amazing benefits of Vishnu Puja at Akshaya Tritiya
· Immense amount of wealth and success at business is received
· Happiness and luck is showered upon the devotee
· Peace of mind and calmness of soul
· Success in any endeavour
· Improves personal and professional relationships.
· Blesses the devotee with good health.
Vishnu Puja at Akshaya Tritiya is very rewarding and hence people perform it with utmost dedication. Akshaya Tritiya puja should be performed keeping in mind its Vidhi to get maximum benefits.
To read more about Akshaya Tritiya 2017 and Laxmi puja please click on the link below or contact on the following number: 9582515505