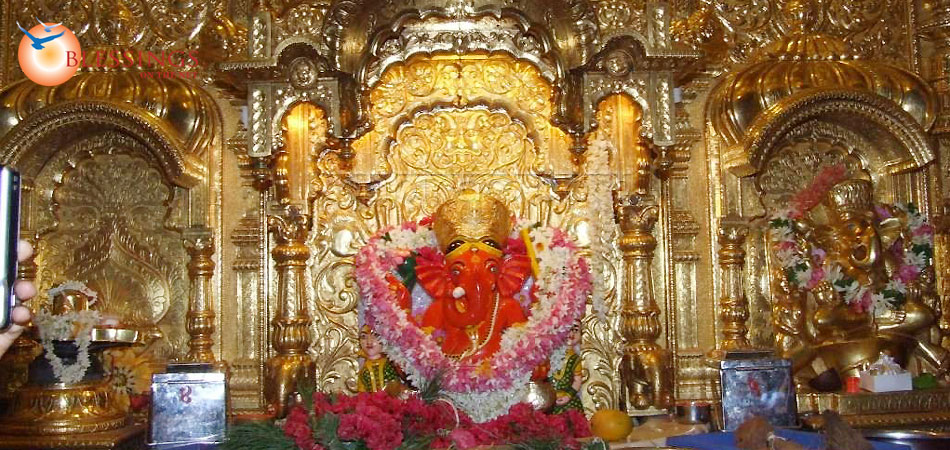 About
The idol of Shree Siddhivinayak is carved out of a single black stone .With the trunk on the right. This is an unusual appearance of Lord Ganesha. The upper right and left hands hold a lotus and an axe respectively, the lower right and left hands hold a rosary (japmala) and bowl full of "Modak" . It resembles a sacred thread; a snake appears on the left shoulder going towards the right side of the belly. On the forehead of the deity is an eye, which almost looks like the third eye of Lord Shiva. On both sides of Lord Ganesha idol, is placed one idol each of Riddhi and Siddhi goddesses who appear like peeping out of the Ganesha idol from behind. Because of these two deities along with Lord Ganesh, this temple is known as the Siddhivinayak Ganapati Temple. These goddesses are symbols of sanctity, success, wealth and prosperity.
SIGNIFICANCE
"Om Sri Ganeshaya Namah". Lord Ganesha bestows his blessings and siddhis ("powers") on Vishnu, returns to his fight and slays the demons. The place where Vishnu acquired siddhis was thereafter known as Siddhatek.
FESTIVAL
The temple celebrates three main festivals across the year . The Ganesh Chaturthi festival is celebrated from the first to the fifth day of the Hindu month of Bhadrapada, where Ganesh Chaturthi is on the fourth day. A festival is held to commemorate the birthday of Ganesha –Ganesha Jayanti, on the fourth day of the Hindu month of Magha
On Vijayadashami and Somavati Amavasya, a festival and fair is held. It is a no-moon day that falls on a Monday .
Seek Blessings from Lord Ganpati. We will deliver the famous Modak as Prasad offered to Ganpati at your home. Because at ReligiousKart , we care.
We act as your representative to offer & deliver Prasad to your doorstep. We cover all miscellaneous costs such as
Packaging,
Professional handling and logistics,
Shipping,
Payment collection, and
Government taxes
You get a box-full of:
The famous "Modak" or Laddu, Lord Ganesha's idol, Lord Ganesha's Stortra with picture,The holy Dubba grass and flower, Chunari, Sacred Siddhivinayak mauli for your family.
Please feel free to give us a missed call +91 9599955918