The Chota Char Dham Yatra includes classics from all three major Hindu sectarian traditions – Shakta, Shaivaite and Vaishnavite. Where Yamunotri and Gangotri are the representatives of Shakta philosophy, Kedarnath is a Shaivaite site and Badrinath follows the Vaishnavite beliefs. This clock-wise Yatra emerges from the furthest Western corner at Yamunotri then proceeds towards Gangotri and Kedarnath before culminating at Badrinath.

There was the time when the Yatra was only accessible by arduous and lengthy walking trails in mountains with height repeatedly exceeded 4000 meters, done by wandering spartans and other religious professionals, and those who could afford a traveling backup. Postwar, India undertook gigantic road building and soon the Yatra was categorized as a 'religious tourism'.
The Char Dham Mahamarg Vikas Pariyojna
One of the worst flash floods occured in June 2013 and it heavily demolished many parts of the Chota Char Dham, particularly the town of Kedarnath. Thousands of people were trapped and departed during this natural disaster. In order to alleviate the devotees from the perils of getting stranded due to landslides and other uncertainties, our Prime Minister, Mr. Narendra Modi laid the foundation stone for Char Dham highway project in Uttarakhand. It is also dedicated to the victims of the 2013 flash floods.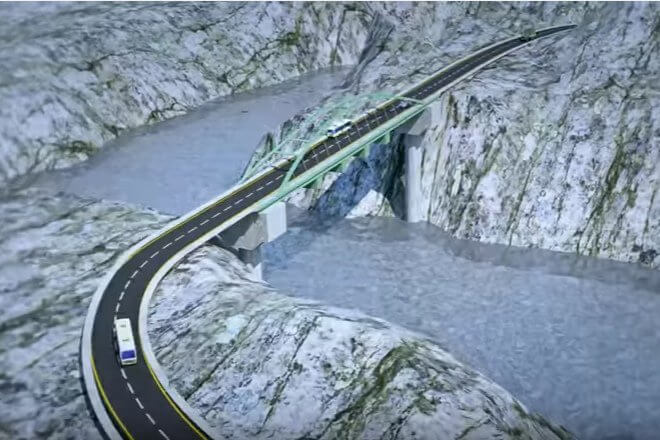 The project is focusing on widening of narrow and geometrically defective highways to double lane carriageway, protection of landslide hazard zones, construction of bypass, bridges and tunnels along the Yatra route. The project would cover Chamoli, Dehradun, Pauri, Uttarkashi and Rudraprayag districts of the Garhwal division of the state. Environment friendly techniques are being incorporated in the design to make these zones safer.
The distribution of budget by 'The Union Ministry of Road Transport and Highways' is as follows:
Rs 715 crore is sanctioned for road widening and construction of bridges under first phase of the project.
A 750-metre flyover would be constructed at Sonprayag with an approximate cost of Rs 141 crore.
Double-lane road would be constructed for Rs 150 crore from Rudraprayag to Aguystmuni,
Repairing of roads at Devprayag, Gulabghati, Helang, Govindghat, Nandprayag, Srinagar and other areas from Rishikesh to Badrinath would cost Rs 270 crore.
Directives have been issued to officials to get forest clearance to serve the purpose.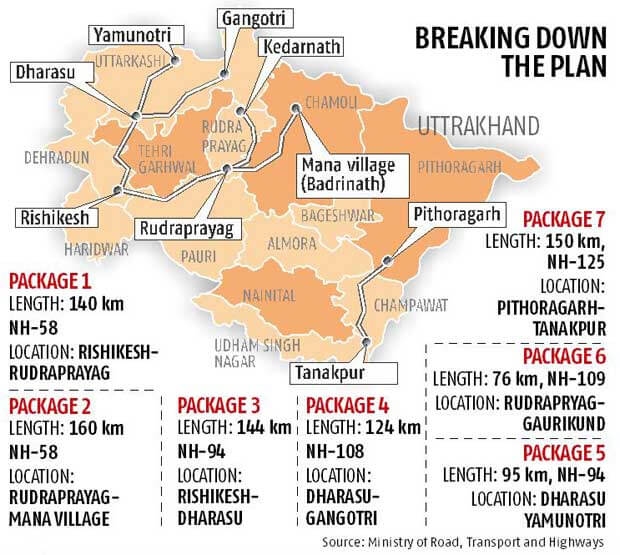 The 889-km long Char Dham road connectivity improvement will also lead to the construction of 12 bridges, 60 small bridges and tunnels. The tender process has been sanctioned amounting to Rs 1,570 crore for four shrines with a target to complete the project by 2020. It is believed that this project will provide livelihood to the people, boost tourism and thus jack up the financial system of the state.