Raksha Bandhan is observed as the most secular festival of India as it is celebrated by various states and communities. It is a Hindu festival which celebrates the love and bond between brothers and sisters. The literal meaning of the word also explains the same i.e. 'Bond of Protection'. The day is not only for biological brothers and sisters but the other way around also.
Raksha Bandhan 2019 is on 15th August. The day usually falls on the full moon day (Shravan Purnima) of the Hindu Lunisolar Nepali calendar. Along with the India, it is celebrated in Nepal, Mauritius, Pakistan and various other countries. The Shubh Muhurat for tying the rakhi is from 05:50 am to 18:03 pm.
There believed to be various stories behind the celebration of this holy festival. Stories include legends like Indra Dev, King Bali and Goddess Laxmi, Santoshi Maa, Krishan and Draupadi, Yama and Yamuna etc. It engulfs in itself a great history behind its origin.It represents the sister's love and affection for her brother and the brother's promise to protect her from all sorts of difficulties throughout her life.This is not simply a thread but an inseparable bond.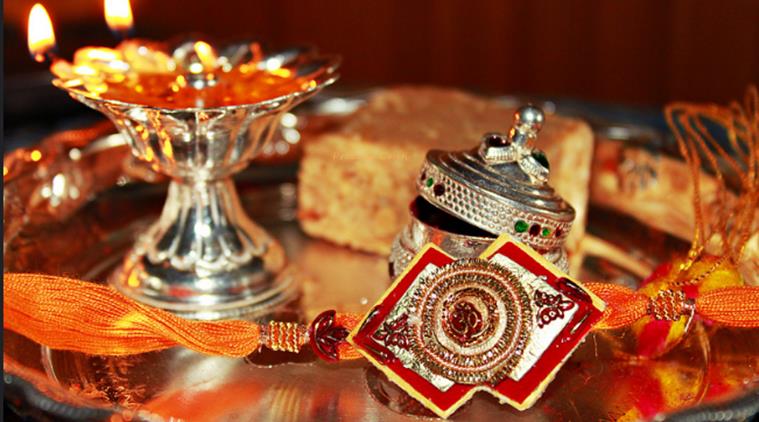 Raksha Bandhan Pooja Vidhi is as following:
Tika is applied on the forehead of the brother and rakhi is tied up on the wrist. A coconut and some sweets are offered to brother. As per the wish of the sister, she is granted a gift by his brother. If the brother is married, then the lumba is tied to his wife's bangles. Some sweets, gifts and hugs are exchanged.
In order to add to the benefits of the Pooja, Raksha Bandhan Pooja Mantra is chanted by people which emphasize the importance of rakhi to be tied up forever. It goes like:
'Yen Baddho Bali Raja Danavendro Mahabalah
Ten Tvaamabhibadhnaami Rakshe Maachal Maahal'
Image Source: 1