Republic Day: Our Nation's Pride
Back on 26 January 1950, a lot was happening in the nation. Events, which set the roots of present India, took place. On 26th January 1950 after 2 years, 11 months and 18 days of discussion and deliberation the constitution of India was drafted under the Chairmanship of Dr BR Ambedkar. On the same day, which is celebrated as the Republic Day all across the Indian Territory, the National anthem "Jana Gana Mana" was adopted as the national anthem of India. This day is also remembered as the day when the first president of India Dr Rajendra Prasad took oath at the Durbar Hall in New Delhi.
Even though the constitution was completed before this date yet this date was chosen, as on this day in 1930 Poorna Swaraj was declared. From this day onwards India is known as The Republic of India. The word republic basically means that it is a system where representatives are chosen by the people to vote for them in the assembly. Republic system is one, which protects the rights of minority groups and in a Republic; there is an elected chief of the states who is known as the President of the country.
The Parade
On this special juncture the freedom of spirit and patriotic emotions of Indians are celebrated with eventful parades and cultural ceremonies all throughout the Nation.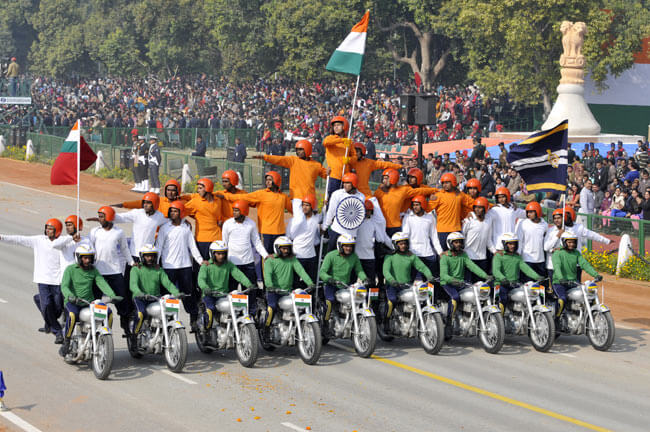 Republic day comes with the act of massive 3-day parade, which is held in the capital, New Delhi. The Parade is a tribute to India's Defense resources, Cultural and Social heritage. The Parade comes to its culmination on the third day where our three admirable military wings, the Indian Army, Indian Navy and Indian Air force performs their act with musical bands. Every year India invites a head of state or government (according to their strategic, economic and political interests), as a chief guest. We have hosted personalities like Queen Elizabeth II, Barak Obama and many more.
Few Amazing Facts
Jawaharlal Nehru addressed the nation on the radio on the eve of the first Republic Day.
Then Indonesian President Sukarno was the first chief guest at the Republic Day parade in 1950.
The word Royal was dropped from Royal Air Force and it became Indian Air Force on this day.
The lion head from Ashoka Pillar in Sarnath was formally adopted as the national emblem on the same day.
The peacock was declared as the national bird on this day in 1963.
Feature Image designed by: Shubhajeet Dey
Image Source: 1