What Is Magh Mela?
The origin of Magh Mela is considered to be the origin of the Universe by Hindu Mythology and is one of the greatest annual religious affairs for Hindus. This significant occasion, the Magh Mela is held every year on the banks of Triveni Sangam (the convergence of the three great rivers Ganga, Yamuna and Saraswati) in Prayag near Allahabad in Uttar Pradesh.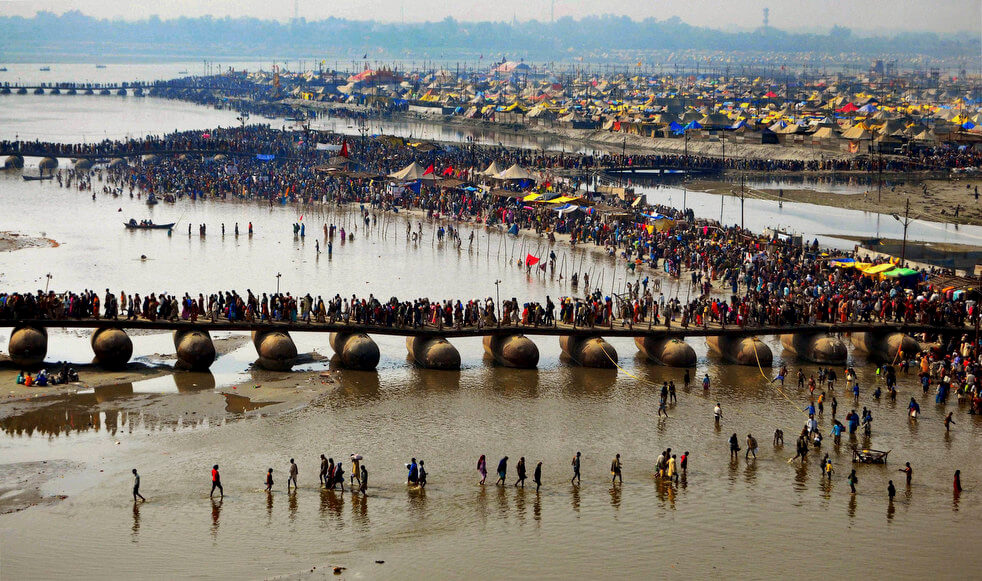 With reference to the traditional Hindu calendar followed in North India, this righteous fair is organized every year during the auspicious Hindu month of Magh (corresponding to mid January – mid February of the Gregorian calendar); therefore the name. However, the highlight of this occasion lays in the fact that Magh Mela is not confined only to the month of Magh, the important bathing dates are spread over a period of 45 days. The Magh Mela is essentially a smaller version of Kumbh Mela. Thus, it is also famous as mini Kumbh Mela. This year Magh Mela will begin on January 15th and end on March 4th.
Ritual Of Magh Mela
The day of Makar Sankranti is marked as the commencement of the annual Magh Mela, which is presumed to be the first important bathing day according to the religious Hindu calendar. The pilgrims mob up in multitudes to take a holy dip at the Sangam on auspicious dates. Also, tradition says huge number of people arrive here annually and stay in provisional houses or tents at the Sangam, spending the entire month of Magh in prayers. This period is known as "Kalpvas". One of the ancient Hindu Vedas mention a "Kalp" to be the phase equal to the total number of years in the four yugas – Satyug, Treta, Dwapar and Kalyug. This adds up to several millions of years.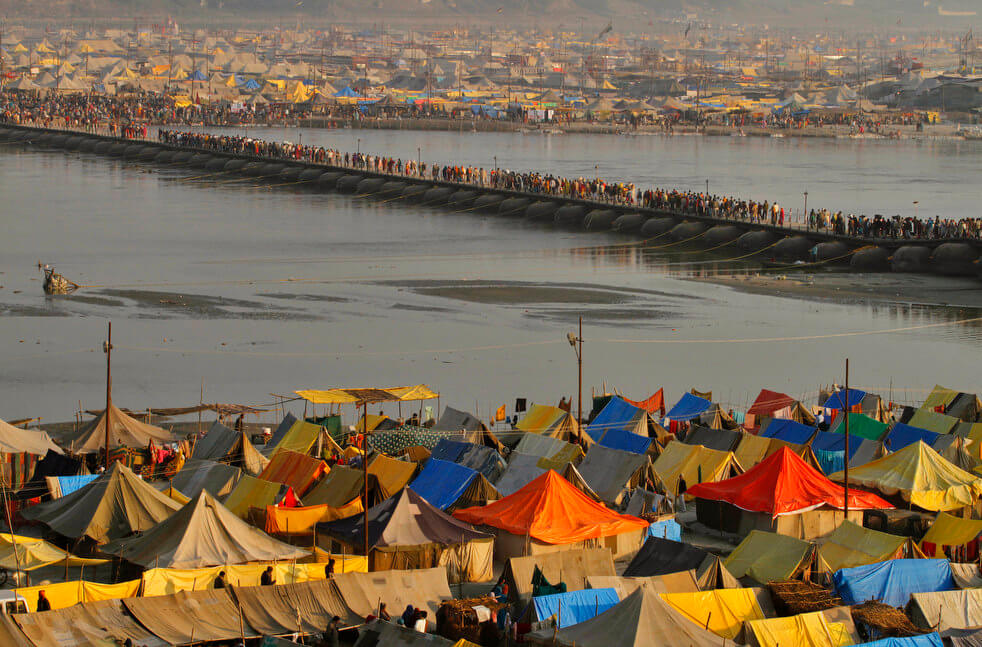 Arrangements Made By The State
The state (Uttar Pradesh) government takes great effort annually to make exceptional arrangements for the followers during this time. A greater number of buses are made available to let the pilgrims have their journey in peace and without any inconvenience or disrupting their chords of spirituality. Townships of tents specially come up on the banks of the Sangam to provide shelter and food to the visiting millions who turn up from all over the country. This practice of setting up tents and feeding the devotees during the period is taken up with immense devotion and piousness. The area is fully equipped with adequate medical and security arrangements so as to avoid any troublesome or upsetting situations. The local police are all set up with "Lost and Found" camps to prevent anyone getting missing during the days of the fair (which is always most likely to happen).
Every twelfth year, the Magh Mela is transformed into the Kumbha Mela.